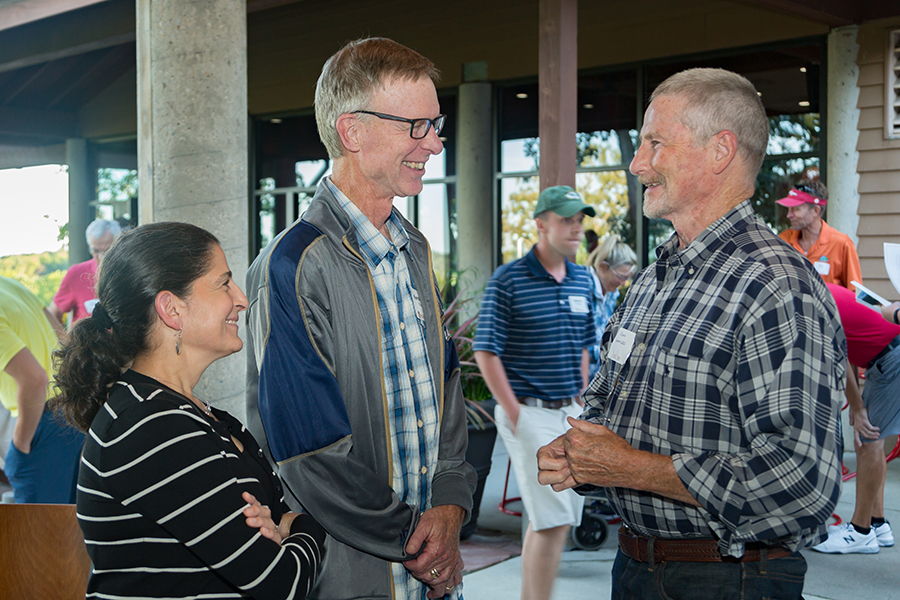 Patient advocates play an important role in the UW Head and Neck Cancer SPORE grant. They help ensure that the work funded by this large NIH grant remains focused on the ultimate goal of improving cancer patients' lives. They do this by:
participating in monthly SPORE meetings
offering feedback on research
building community between researchers and patients
helping to engage patients in research
providing input on communication with patients
inspiring researchers
Advocate profiles
Brian Kaye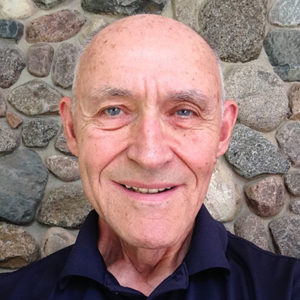 Shortly after retiring in 1999 from a career in banking, Brian Kaye was diagnosed with squamous cell carcinoma in his neck.
He underwent surgery at UW followed by six weeks of radiation therapy under the direction of Dr. Paul Harari. Brian considers himself incredibly lucky to have done so well for so long with relatively minor side effects.
Since treatment, Brian and his wife Mary have consistently supported the UW head and neck cancer treatment program. They worked with Dr. Harari to fund a postdoctoral fellowship in the Department of Human Oncology that catalyzed the early career trajectory of Dr. Randy Kimple, now a successful UW physician-scientist faculty member. Brian has met with newly diagnosed patients to help them understand what to expect during treatment and beyond. Currently, he serves as a patient advocate for the WI Head and Neck Cancer SPORE grant.
"I am very excited that UW has been awarded this grant, and I am happy to offer my input as the research progresses," Kaye says.
As a patient advocate, Kaye reminds researchers and clinicians how their work may affect patients and offers them the following advice: "A cancer diagnosis is so emotion-laden and daunting. Be cognizant of the emotional state of the patient because that's going to have a big impact on how the patient behaves and probably how well the treatment goes."
Through his involvement with the UW, Kaye has seen how research can lead to improved treatment of head and neck cancer.
"The progress I've seen gives me hope for future patients," Kaye says. "And the SPORE will help bring about further advances for patients like me. As a patient advocate, I hope to increase awareness of this research and perhaps motivate others to lend support financially or in other ways."
Marshall Flax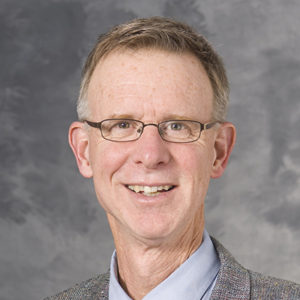 Throughout his career, Marshall Flax has helped blind and visually impaired people learn to see better and get around more easily. He has also advocated on their behalf, helping others better understand the challenges they face.
After surviving throat cancer, Flax has also become an advocate for head and neck cancer patients.
Flax was diagnosed with Stage 4 squamous cell carcinoma of the tonsil in 2003 at age 50. After 7 weeks of radiation therapy and chemotherapy at UW he remains cancer-free.
Since completing treatment, Flax has supported UW by donating generously, participating in fundraising and helping to create and run a support group for head and neck cancer patients.
He also serves as a patient advocate for the Wisconsin head and neck cancer SPORE grant.
Flax hopes the SPORE will lead to more targeted treatments to minimize the severity of treatment-related side effects, increase the proportion of patients cured and improve prevention.
As a SPORE patient advocate, Flax feels he can offer thoughts on outreach to patients to increase tissue donation and participation in clinical trials, two essential elements of the SPORE.
"I'm here to let the researchers know when something doesn't make sense," Flax says. "I don't have a science background and generally don't read research articles on my lunch hour, but I'm here to offer the patient's perspective to the researchers."
Randy Eggert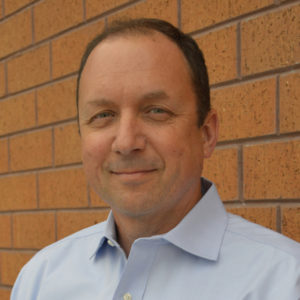 As a senior investment officer with the State of Wisconsin Investment Board, Randy Eggert helps ensure a secure future for the state's public employees by managing a portion of the state's public pension fund. In 2005, his own future seemed less than secure when he was diagnosed with Stage 4 squamous cell carcinoma of the tonsil.
He noticed a small lump on his neck while shaving and had it checked by a doctor. After two needle biopsies were inconclusive, he was referred to UW Health surgeon Dr. Gregory Hartig, who removed four cancerous lymph nodes from his neck.
"When you hear Stage 4, it's pretty scary," Eggert says. "I thought, 'I've got a wife and two young kids.' I tried to focus on other things besides the cancer."
After the surgery to remove the lymph nodes, Eggert received radiation under the direction of Dr. Paul Harari and chemotherapy under the direction of Dr. Anne Traynor at the UW Carbone Cancer Center. During treatment, he attended the center's head and neck support group meetings, where he had the opportunity to meet patient advocates—former patients who had been through similar diagnoses and treatments.
"[Patient Advocate] Marshall Flax was an inspiration to me because he had gone through the same thing as me two or three years before I did and was doing fine. He gave me hope," Eggert says. "After I finished treatment and was feeling better, I'd go to these monthly meetings whenever I could and tried to be that inspiration for somebody else who was going through treatment."
That same commitment to other patients was part of what prompted him to respond "yes" when asked by Dr. Harari if he would be interested to serve as a patient advocate for the recently funded Wisconsin Head and Neck Cancer SPORE Grant. Several patient advocates with prior head and neck cancer participate actively with the SPORE to provide a valuable patient perspective to the research team.
"I'm very indebted to the team at UW Carbone Cancer Center and all the research they do to help people with head and neck cancer," Eggert says. "Their work has a real impact on the lives of people like me. I'm sure the technology and the research have advanced substantially since I was treated, and I'm excited to see what they'll be able to do in the next 10 or 12 years."
In Memoriam: Patrick Heinritz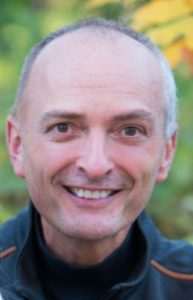 Patrick Heinritz, a passionate patient advocate for the Wisconsin Head and Neck Cancer SPORE grant died peacefully on Nov. 10, 2017 at age 60.
Heinritz, a recently retired grants administrator for the Department of Medicine at the University of Wisconsin School of Medicine and Public Health, was diagnosed with squamous cell carcinoma of the base of the tongue in 2008. He was successfully treated with radiation therapy under the care of Dr. Paul Harari, SPORE principal investigator. Pat navigated treatment beautifully and made a complete recovery from this major challenge. However, in late 2013, Pat was diagnosed with a high-grade brain tumor that eventually took his life.
Pat generously lent his professional expertise and experience as a patient to help the UW secure this prestigious grant and continued to offer his input and inspiration throughout the early phase of the SPORE grant.
"I was thrilled when UW got the SPORE grant because this research will help us better understand the causes of head and neck cancer and hopefully reduce side effects to make it easier for patients to get through treatment. That's incredibly important and particularly interesting to me," Heinritz said shortly after the university was awarded the grant. "As a grants administrator, I have seen how discoveries in the lab translate to the clinic. This grant will help facilitate that process. It will lay the foundation to develop new and innovative therapies and improve existing ones."
"Pat was an important member of the HN SPORE team. He eloquently represented the patient perspective and provided practical grant administration insights that continue to help us as our research progresses," Harari says. "We are forever thankful for his commitment and take inspiration from his involvement with the Wisconsin HN SPORE."
Pat hailed from a large family, one of 18 children in fact. He was an avid sportsman with an upbeat style and personality that endeared him to others. He is survived by his wife Cindy, a UW faculty research scientist and his daughter Anne both of whom brought enormous pride and love to Pat. We treasure his memory and contribution as part of the Wisconsin HN SPORE effort.